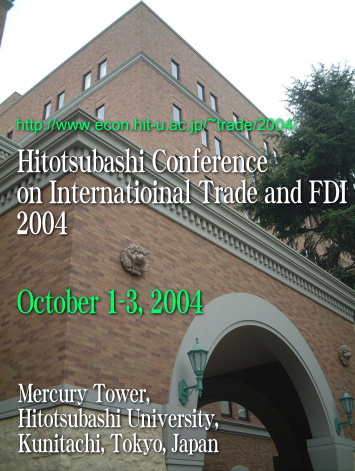 Contact Information
Fax: +81-(0)42-580-9102(COE/RES Office)
MercuryTower MAP(PDF)...sorry, japanese only




Mercury Hall


Mercury Hall


Mercury Tower
Lobby

Mercury Tower
Entrance

Mercury Tower

East Gate
We would like to thank all of you for your participation and cooperation in our Conference. We hope you enjoyed it. We think that it was a conference fruitful of results and a great success.
Click to Days Page






Click Here

Closed



Click Here
Hotel, Reservation and Transportation




===From JR Tokyo Station to Marcury Hall(Conference Center) in Marcury Tower 7F, Hitotsubashi University===

Follow the directions below. See the Location Map (new window).

1. From JR Tokyo St. to JR Kunitachi St. (approx. 50 min)

Take Chuo Line from Track #1 or #2.
You may take any Rapid (Kaisoku) train EXCEPT Musashikoganei-bound train.
If you take a Special Rapid (Tokubetsu Kaisoku) train, you have to transfer to a Rapid train at Kokubunji.

2. From JR Kunitachi St. to Mercury Tower (10min walk)

Take the south exit and walk on the left hand side of the University Avenue (Daigaku Dori).
You will see the university gate in several minutes, enter the East Campus there. Murcury Tower is located at the south-east end of the East Campus. See the Campus Map (new window).